Lasagne, ragout and more great dishes from top cooks including Nigel Slater and David Tanis, chosen by Observer Food Monthly The final part of this series launches tomorrow at 8am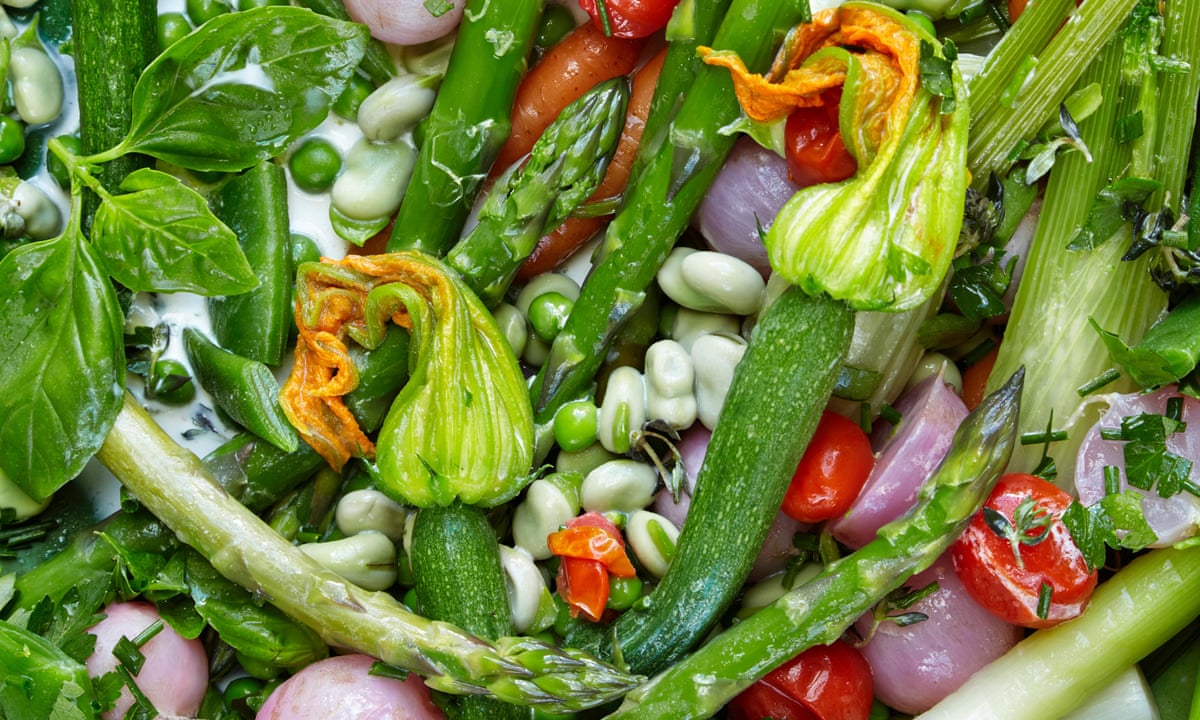 Bruno Loubets cocotte of spring and summer vegetables
My father used to love his garden; it was his pride and joy. In spring and summer, he often used to bring home a large basket with a colourful selection of young vegetables. The look on his face and his body language sent a clear message; here was a man that was excited, proud and happy with the fruits of his labour. He always handed the basket to my mother like a beautiful bouquet of flowers. A couple of hours later, the little gems would end up in the middle of the kitchen table in a large Le Creuset cocotte, exuding the most lovely scent and confirming their organic credentials.
Serves 6
olive oil 4 tbsp
baby carrots 12
baby fennel bulbs 6, trimmed and peeled
radishes 18 small, trimmed
salt and black pepper
garlic 1 clove
summer savoury 1 tbsp
baby leeks 6, trimmed
runner beans 4, topped, tailed and cut into pieces
baby courgettes 6
podded fresh broad beans or frozen broad beans 150g
peas 150g
cherry tomatoes 12
asparagus spears 6
double cream 2 tbsp
butter a knob
thyme leaves tsp
flat-leaf parsley 1 tbsp, chopped
chives 2 tbsp, chopped
chervil 1 tbsp, chopped
basil 2 tbsp
lemon , to finish
Heat the olive oil in a large pot, such as a cocotte, over a medium heat.
Add the carrots, fennel and radishes. Season with salt and pepper then add the garlic and summer savoury. Stir well, cover with a lid and lower the heat as far as it will go. Cook for about 5 minutes or until the carrots are al dente, then remove the lid and add the baby leeks and runner beans. Stir well then add half a glass of water. Replace the lid, keeping it slightly ajar at one side. Leave to cook for 3 minutes, then add the remaining vegetables.
Mix well, then add another half-glass of water and replace the lid, again slightly ajar, and cook for a further 3 minutes. Remove the lid, then add the cream, butter and the herbs, swirl the pan to mix everything together (using a spoon to mix it might break up or damage the delicate vegetables), then squeeze over a little lemon juice. Swirl again then serve the pot in the middle of the table.
From Mange Tout by Bruno Loubet (Ebury Press, 25). Click here to buy a copy from Guardian Bookshop for 20
David Taniss wild mushroom ragout with ziti
Read more: www.theguardian.com