The long read: For 10 years, Nasa has been flying over the ice caps to chart their retreat. This data is an invaluable record of climate change. But does anyone care?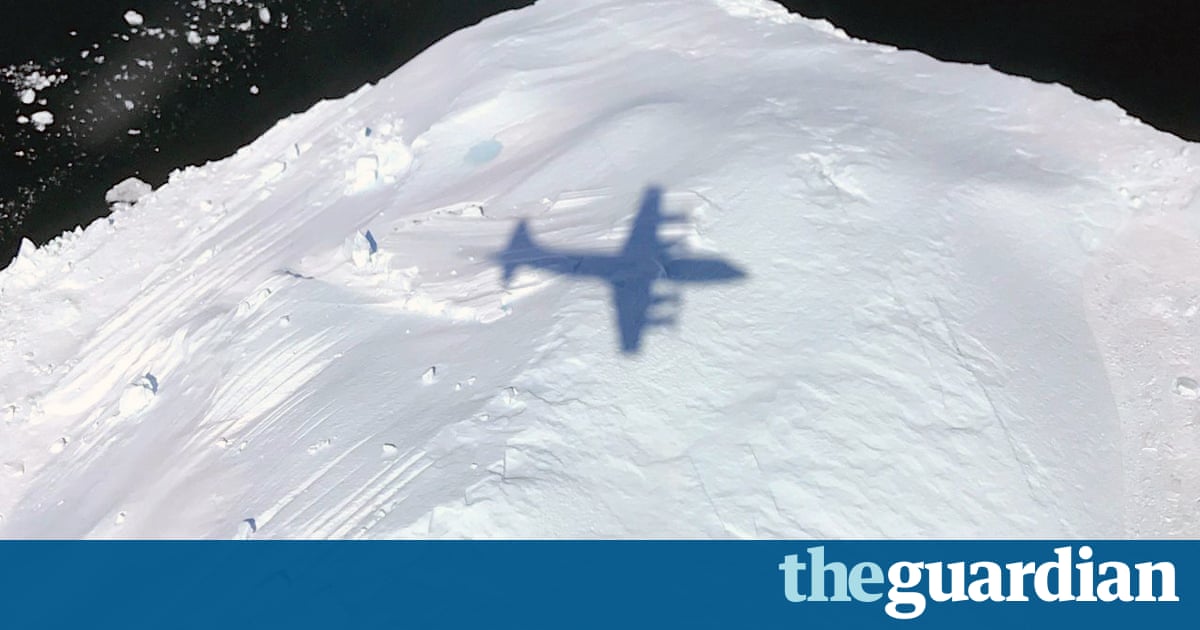 From the window of a Nasa aircraft flying over the Arctic, looking down on the ice sheet that covers most of Greenland, its easy to see why it is so hard to describe climate change. The scale of polar ice, so dramatic and so clear from a plane flying at 450 metres (1,500ft) high enough to appreciate the scope of the ice and low enough to sense its mass is nearly impossible to fathom when you arent sitting at that particular vantage point.
But its different when you are there, cruising over the ice for hours, with Nasas monitors all over the cabin streaming data output, documenting in real time dramatising, in a sense the depth of the ice beneath. You get it, because you can see it all there in front of you, in three dimensions.
Imagine a thousand centuries of heavy snowfall, piled up and compacted into stone-like ice atop the bedrock of Greenland, an Arctic island almost a quarter the size of the US. Imagine all of modern human history, from the Neolithic revolution 12,000 years ago when humans moved from hunting and gathering to agriculture, and from there, eventually, to urban societies until today. All of the snow that fell on the Arctic during that entire history is gathered up in just the top layers of the ice sheet.
Imagine the dimensions of that ice: 1.71m sq km (656,000 sq miles), three times the size of Texas. At its belly from the top layer, yesterdays snowfall, to the bottom layer, which is made of snow that fell out of the sky 115,000-130,000 years ago it reaches 3,200 metres (10,500ft) thick, nearly four times taller than the worlds highest skyscraper.
Imagine the weight of this thing: at the centre of Greenland, the ice is so heavy that it warps the land itself, pushing bedrock 359 metres (1,180ft) below sea level. Under its own immense weight, the ice comes alive, folding and rolling in solid streams, in glaciers that slowly push outward. This is a head-spinningly dynamic system that we still dont fully understand and that we really ought to learn far more about, and quickly. In theory, if this massive thing were fully drained, and melted into the sea, the water contained in it would make the worlds oceans rise by 7 metres (23ft).
When you fly over entire mountain ranges whose tips barely peek out from under the ice and these are just the visible ones its possible to imagine what would happen if even a fraction of this quantity of pent-up freshwater were unleashed. You can plainly see how this thing would flood the coasts of the world, from Brooklyn to Bangladesh.
The crew of Nasas Operation IceBridge have seen this ice from every imaginable angle. IceBridge is an aerial survey of the polar regions that has been underway for nearly a decade the most ambitious of its kind to date. It has yielded a growing dataset that helps researchers document, among other things, how much, and at what rate, ice is disappearing from the poles, contributing to global sea-level rises, and to a variety of other phenomena related to climate change.
Alternating seasonally between the north and south poles, Operation Icebridge mounts months-long campaigns in which it operates eight- to 12-hour daily flights, as often as weather permits. This past spring season, when I joined them in the Arctic, they launched 40 flights, but had 63 detailed flight plans prepared. Operation IceBridge seeks to create a continuous data record of the constantly shifting ice by bridging hence the name data retrieved from a Nasa satellite that ended its service in 2009, called ICESat, and its successor, ICESat-2, which is due to launch next year. The Nasa dataset, which offers a broad overview of the state of polar ice, is publicly available to any researcher anywhere in the world.
In April, I travelled to Kangerlussuaq, in south-west Greenland, and joined the IceBridge field crew a group of about 30 laser, radar, digital mapping, IT and GPS engineers, glaciologists, pilots and mechanics. What I saw there were specialists who have, over the course of almost 10 years on this mission, mastered the art and science of polar data hunting while, at the same time, watching as the very concept of data, of fact-based discourse, has crumbled in their culture at home.
On each flight, I witnessed a remarkable tableau. Even as Arctic glaciers were losing mass right below the speeding plane, and even as raw data gleaned directly from those glaciers was pouring in on their monitors, the Nasa engineers sat next to their fact-recording instruments, sighing and wondering aloud if Americans had lost the eyes to see what they were seeing, to see the facts. What they told me revealed something about what it means to be a US federally funded climate researcher in 2017 and what they didnt, or couldnt, tell me revealed even more.
---
On my first morning in Greenland, I dropped in on a weather meeting with John Sonntag, mission scientist and de facto field captain for Nasas Operation IceBridge. I stood inside the cosy weather office at Kangerlussuaq airport, surrounded by old Danish-language topographical maps of Greenland, as Sonntag explained to me that the ice sheet, because of its shape, can generate unique weather patterns (the ice isnt flat, its curved, he said, making a little mound shape with his hands).
The fate of the polar ice has occupied the last decade of his life (Im away from home so much its probably why Im not married). But at pre-flight weather meetings, polar ice is mostly of concern to him for the quirky way it might affect that days weather. The figure in Sonntags mind this morning isnt metres of sea rise, but dollars in flight time. The estimated price tag for a flight on Operation IceBridge is about $100,000; a single hour of flight time is said to cost $10-15,000. If Sonntag misreads the weather and the plane has to turn back, he loses flight time, a lot of taxpayers money, and precious data.
I would come to view Sonntag as something of a Zen sage of atmospheric conditions. He checks the weather the moment he wakes in the morning, before he eats or even uses the bathroom. He told me that it wasnt simply about knowing what the weather is. With weather, there is no is. Whats needed is the ability to grasp constant dynamic change.
What Im doing, he said, is correcting my current reading against my previous one which he had made the last possible moment the night before, just before falling asleep. Basically, Im calibrating. The machine that he is calibrating, of course, is himself. This, as I would learn, was a pretty good summary of Sonntags modus operandi as a leader: constantly and carefully adjusting his readings in order to better navigate his expeditions shifting conditions.
Nevertheless, despite the metaphorical implications of his weather-watching, Sonntag was ever focused on the literal. At the weather meeting, I asked him about his concern over some low cloud cover that was developing a situation that could result in scrubbing the flight. Was his concern for the functionality of the aircrafts science equipment, its ice-penetrating radars, its lasers and cameras?
Read more: www.theguardian.com